You can easily cancel your subscription at anytime. You can do it online, any time of day, with no cancellation fees! Just a couple reminders:
There are no refunds for partial subscriptions.
Not using the account does not change the trial conditions stated at sign up.
With a free trial, you must cancel before the trial period ends, to avoid being charged. If you cancel the automatic renewal before the free trial ends, you will still have the remaining days left on your subscription.
Your subscription will remain active until the renewal date
You cannot cancel through the app. You must cancel through the website.
How do I cancel the automatic renewal?
These steps are valid for credit card and PayPal subscriptions*:
Log in to your Crunchyroll account: https://sso.crunchyroll.com/login
Go to https://www.crunchyroll.com/account/membership or go to My Account by clicking on your username


You need to use the website to be able to cancel your subscription
3. Select Membership Info
4. Click on Cancel Subscription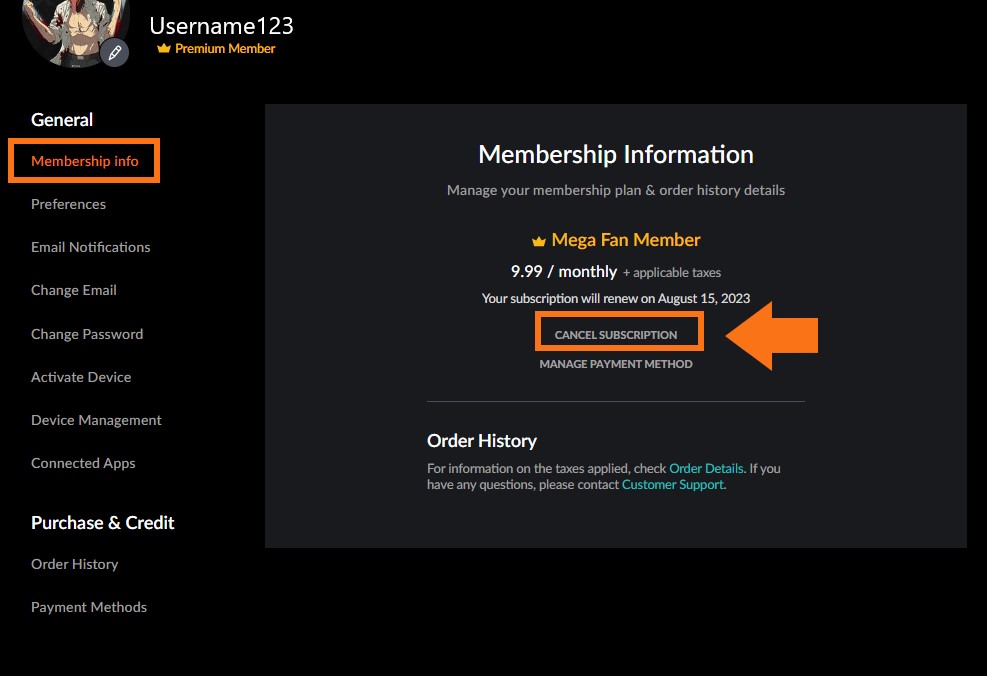 5. Scroll down to the bottom of the next page and click on CANCEL MEMBERSHIP to confirm cancellation
6. Check the confirmation message at the top as a last step to confirm your cancellation:

*For PayPal, we also recommend canceling the recurring payments from your PayPal account:
Log into PayPal: https://www.paypal.com/us/signin
Go to Settings
Click the Payments tab
Select Ellation Holdings Inc
How do I cancel if I pay through Google Play/iTunes/Roku?
If your payment method is any of these, then you will not see an option to cancel on your Crunchyroll account settings. You will need to cancel the subscription using those platforms, review the information for each payment method:
Issues with the cancellation
I cancelled but I'm still being billed





To find more FAQ's and knowledge base questions and answers, access the rest of our knowledge base.
If you still need further help, need something changed regarding your account, or would like to contact us directly, please contact us with the details.